Outdoor Living
PORCELAIN TILE FOR EXTERIOR APPLICATIONS
The Great Outdoors Just Became Greater
Achieve the performance outdoor spaces require without sacrificing style
Crossville has the surfacing solutions you need to make outdoor living beautiful, functional, and sustainable. Backed by our vast industry resources and design expertise, we curate the finest, highest performing exterior-ready porcelain solutions for Backed by our vast industry resources and design expertise, we curate the finest, highest performing exterior-ready porcelain solutions for luxury homes, hotels, multifamily, and more.
Exterior Featured Products
Introducing Stone Fiction, Portugal, and Owen Stone
The allure of travertine from the indoors to outdoors.
It's no lie that crosscut travertine is a timeless, earthly manifestation of style. Maintenance requirements and irregularities in the surface make commitment to travertine— shall we say — hard. Stone Fiction porcelain tile collection is the elegantly effortless alternative.
This inspired line grounds down in the look of perpetually appealing travertine while providing confidence in the performance of porcelain for a lifetime of grace, ease, and style.
Stone Fiction's soft, swirling surface graphics and mild, infinitely matchable neutral colorpalette emulate what Mother Nature created in travertine's distinct mineral deposits. Each tile convincingly reinterprets stone's naturally dramatic pits in subtle, easy-to-clean depth. The resulting coziness centers your spaces in the illusion of a time-honored material.
Inspired by Portuguese Atlantic Dark limestone, Portugal porcelain stone collection is graced with natural beauty found only in the Mediterranean. The look of the limestone captured in this line is different from others of its kind, featuring a subtle, organic surface that delivers a sophisticated, tactile elegance.

Portugal is not only unique in its look, but also it's feel. This line comes in interior and exterior finishes, offering ideal solutions for installations that flow from indoors to out.
Portugal in Harvest Tawny PTG05
Taking its cues from the elegance of Italian Pietra di Cardosa and United State's Vermont Slate and merged with technical advancements, Owen Stone by Crossville is a porcelain tile unlike any before. The Leathered finish offers a buttery, cashmere-like feel that is unique to Crossville—a first for porcelain tile. Smooth, silky to the touch, this finish is perfect for bare-feet floors and luxurious wall finishes, yet features DCOF suitable for commercial applications.

Feel the difference by ordering a sample of Owen Stone today.
UV Light Protected, Stain and Frost Resistant
Our beautiful porcelain countertops are perfect for the outdoors. Other countertop materials may stain, crack, or yellow; our 12mm thick 100% porcelain products excel. They are UV light, stain and frost resistant to ensure your outdoor space looks as good next year as it does today.
For countertops in direct sunlight, we suggest selecting lighter colors to keep the material temperature down and those warm weather beverages ice cold. See the available options with these classics and take your outdoor space where it's never gone before.
Exterior finishes ideal for use anywhere outside the home
Superior performance, superior style
Choosing the right flooring for interior spaces is a big decision, and outdoors is no different.
For exterior spaces, it's necessary to select a material that's equal parts practical (slip resistant, durable, easy to maintain, and weather resistant) but also aesthetically pleasing. In considering flooring options, check out these advantages to Crossville's Owen Stone and Portugal collections that offer exterior finishes that are ideal for use anywhere outdoors.
Easy Maintenance - You don't have to worry about putting too much energy into maintaining your porcelain tile patio. For most spills, cleaning is easy with just water.
All Types of Weather – Since porcelain tiles don't absorb much water, sealing is not required. Additionally, porcelain doesn't absorb much water; so, you don't have to worry about it cracking due to freezing and thawing.
Exterior Finish - Both Owen Stone and Portugal are available in exterior finishes that offer the slip resistance necessary to keep outdoor applications safe for foot traffic and frequent use even when exposed to the elements.
Durable - Porcelain is a lasting and durable material. For the same reasons porcelain is installed in interior high traffic areas, porcelain tile is an excellent choice to accommodate frequent patio foot traffic.
Mold Resistant - With no water retained inside the tile, there's less of a chance that you'll experience problems with mold or mildew.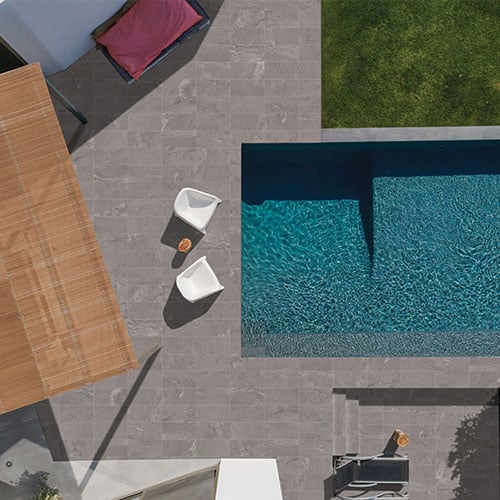 Contact us today for more details.
Want more info? Please feel free to reach out with questions or to order a free sample.